CHAMPIONS !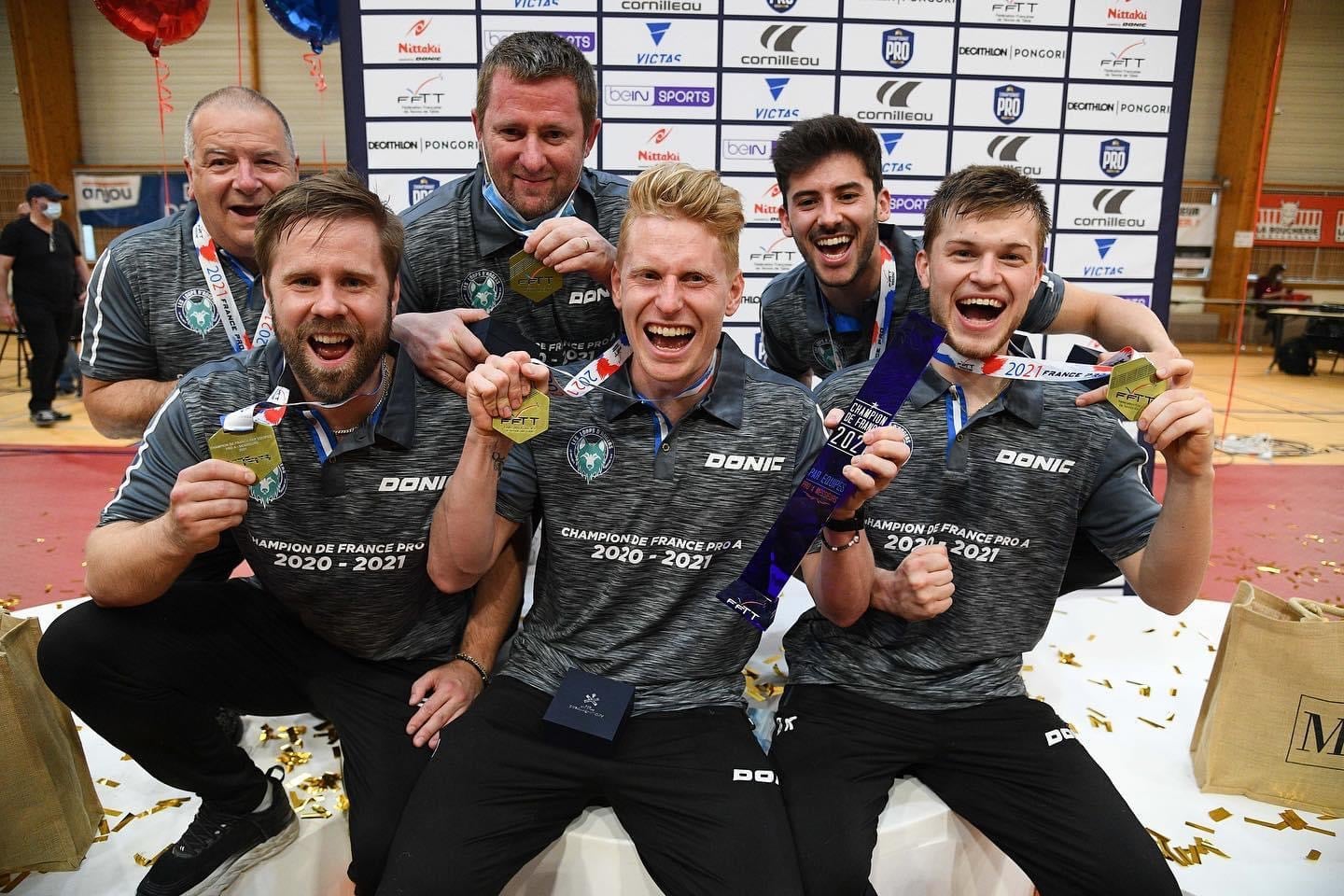 Angers 2-3 Hennebont
Rien n'aura finalement manqué à cette magnifique soirée de ping… ou presque ! Car une séduisante équipe d'Hennebont est en effet venue chiper la victoire au nez et à la moustache masqués du nouveau champion de France, sans autre conséquence toutefois qu'un petit sentiment d'inachevé : fêter le titre et le retour des supporters à la salle par une victoire aurait incontestablement eu de la gueule
.Aligné pour ce match de gala, Bastien est pourtant passé tout près d'apporter un point crucial face à Nuyttinck, ne s'inclinant que 11-9 à la belle après une super partie de manivelles, avant de se faire largement dominer par ASSAR dans la dernière partie de la saison : encore un tout p'tit poil juste le louveteau ! Quant à Hampus, remplaçant un Joao « O monstro » Geraldo légèrement blessé aux adducteurs dans la 3ème partie, il ne fit pas le poids face à ce même belge.
Auparavant, les boss de l'équipe avaient pourtant fait le job. Joao « O phenomeno » avait d'entrée démonté Omar à grands coups de parpaings en 3 sets hyper secs (3/4/7) : sidérant ! Et Jon, encore un peu sur courant alternatif vendredi, avait dû s'énerver pour prendre le meilleur sur un excellent Walker et permette à son équipe de mener 2-1 à la pause, à l'issue d'un match très spectaculaire où chacun joue à celui qui frappe le plus fort et le plus vite, comme au bon vieux temps des fabuleux Cassius Clay / Joe Frazier.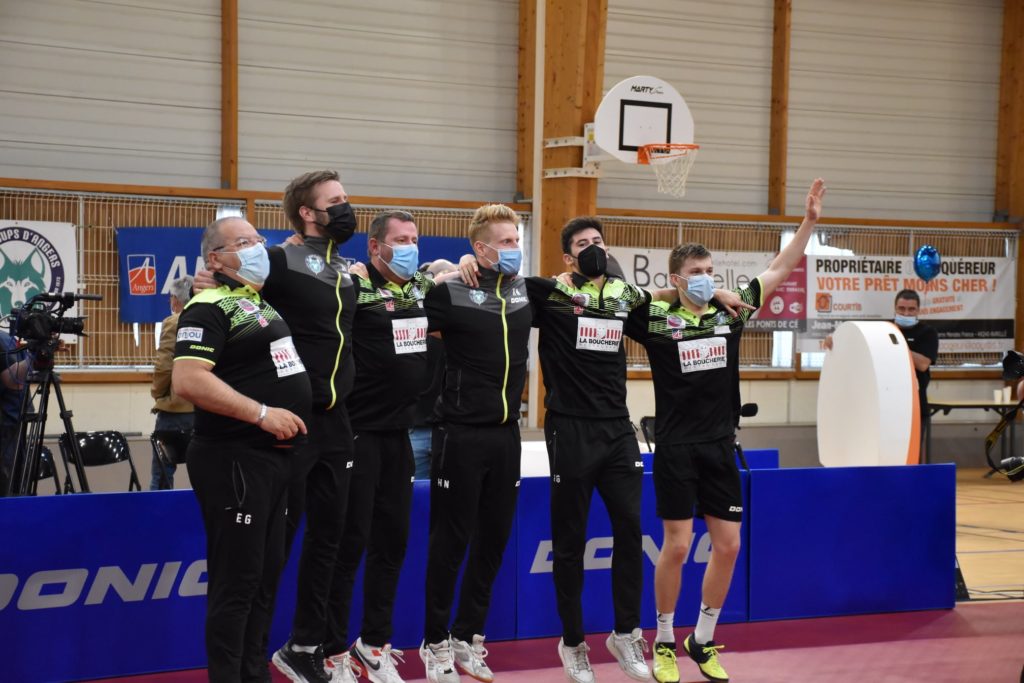 Voilà pour le sportif. Et ensuite vint la fête.
La salle, c'était Bercy ! Jean-Pierre et tous les bénévoles nous avaient créé un vrai décor de cinéma, digne de Gladiator ! Partout, des journalistes avaient déroulé des câbles et ouvert des écrans l'air sérieux et concentré (Le TIMES, le Monde, CNN, BFM, Le Courrier, Ouest France, The Guardian, Libé, L'Equipe, La Croix, ils étaient tous là, et même BEIN,… mais là c'est pas des conneries
), la fédé (qui nous prend quand même un peu de pognon chaque année) avait déplacé pour l'occasion tous ses calicots, cachant ceux de nos partenaires (les mecs sympas qui nous en donnent : heureusement, le président s'est ingénié à discrètement les remettre au premier plan
), le trophée, un moche parallépipède bleu en verroterie même pas gravé estampillé FFTT, brillait de mille feu sur une nappe noire à la noix (quelle drôle d'idée quand même, on se serait cru chez Roc Eclerc !
), des barrières balisaient le chemin des VIP et du vulgus pecus vers la billetterie où Dominique avait repris sa place et sa caisse tout oxydée, la salle de réception avait été ornée de nappes et de drapeaux tricolores donnant au tout un air de 14 juillet, le tout-Paris_et le tout-Angers avaient pris place sur le ban et l'arrière-ban (Mr le Maire, ses adjoints, le président de la fédé et celui de la ligue, Christian MARTIN, Christophe LEGOUT, François MORILLON, Clément BEDOUET qui a eu 30 ans vendredi, Bouch, Ludo et bien d'autres, ainsi que Barak OBAMA, Bernard Henri LEVY, Michel DRUCKER et Line Renaud, mais vous n'être pas obligés de me croire…), Dominique et sa grosse caisse trônaient au milieu des travées que les 200 formidables supporters réglementaires (à quelques dizaines près) avaient à nouveau investies, au plus grand bonheur de tous : purée, quel kiff !
Alors, après le dernier point, tout ce petit monde se mit en branle.Gérard, stressé par l'horloge qui sonnait déjà l'heure du couvre_feu, oublia le discours qu'il avait préparé pour nous dire quelques mots brefs, sincères, émouvants et riches de sens, Mr BECHU se mua en formidable chauffeur de salle dans une intervention dont devraient vraiment s'inspirer Jean CASTEX, Gérald DARMANIN et bien d'autres figures politiques du moment, et Gilles ERB eut à peine le temps de finir son laïus quand JON, qui n'en pouvait plus de tous ces discours, sortit comme un diable de sa boîte en hurlant comme un loup, arrosant tout ce beau monde du champagne dont il planquait sournoisement la bouteille dégoupillée depuis le début de la cérémonie protocolaire, sous une pluie de confettis multicolores ! (quel bordel !)
On monta sur le podium humide.
Gérard reçut le trophée, avec lequel il dormit.
Les joueurs et le staff s'inclinèrent pour s'entourer de leur médaille de champions, ainsi que de celle de la ville (gravée au nom des récipiendaires, elle).
Chacun sauta, hurla, cria, embrassa, dansa sous les nuées de portables pointés sur eux.
Et après ces minutes de liesse collective et de bonheur partagé, la meute des Loups put enfin se retirer dans son antre pour se repaître de la splendide blanquette de veau de maître Yannis (sur des tables en plein air de 6 maxi, avec une chaise tous les 2 mètres of course) , boire quelques canons, et vivre ensemble, en famille, ces moments magiques et intimes dont on se souvient toute la vie, et qui ne peuvent décemment être dévoilés sur la place publique
.
Les Loups sont enfin champions de France, qu'on se le dise, et c'est un sacré pied ! »
Christophe PRIEUR
Manon Denéchère