Les Loups avaient les crocs !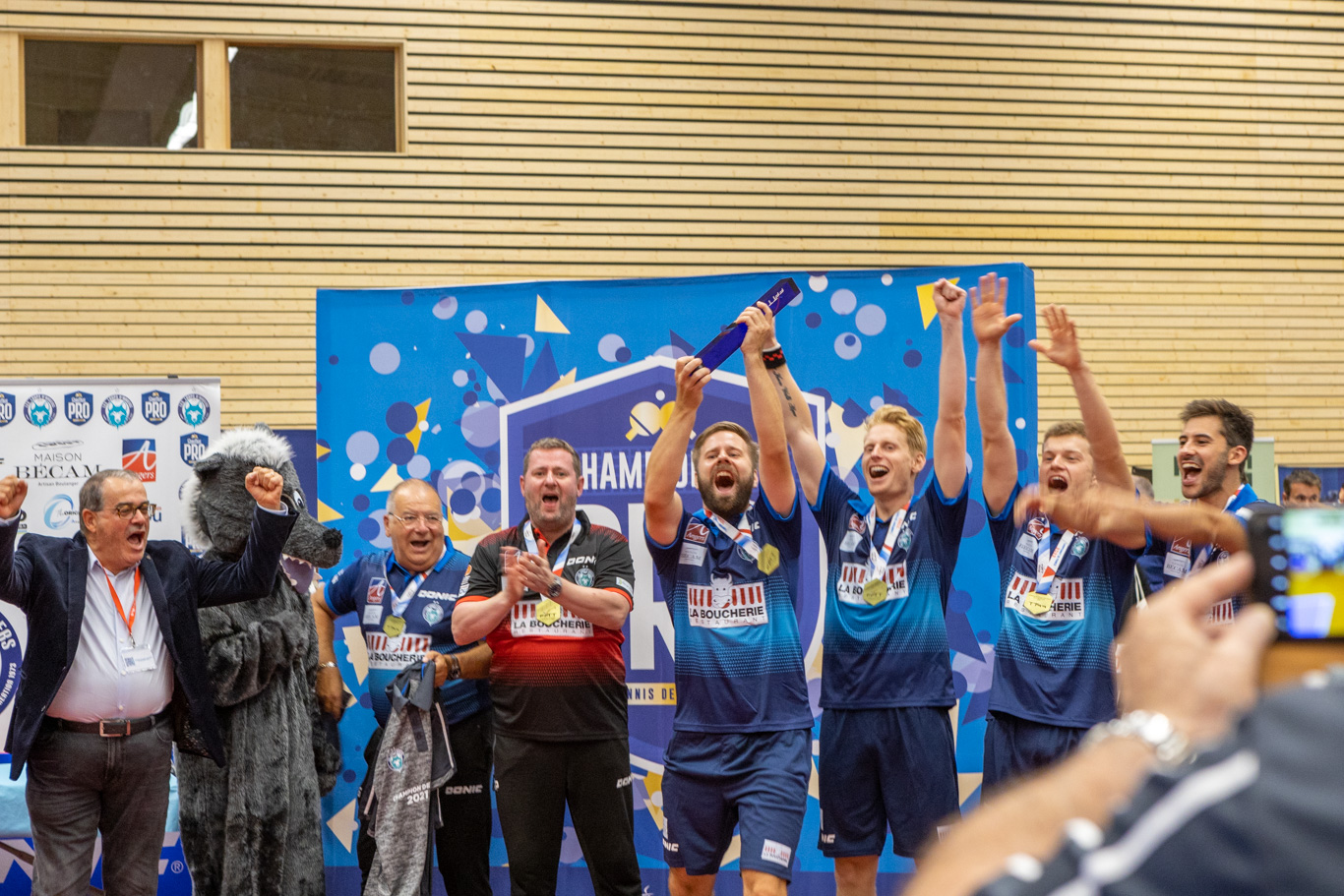 Angers bat Thorigné-Fouillard 3-0
Pour cette première à Monplaisir, les Loups avaient mis le petits plats dans les grands en concoctant une soirée vraiment grandiose, dont les organisateurs des obsèques de la Reine d'Angleterre, RIP your majesty, pourront s'inspirer dans le futur pour celles de Charles III, God save the King.
Et si les nombreuses personnalités présentes pour cet évènement (monsieur le député, monsieur le maire, monsieur l'adjoint aux sports, monsieur le vice président de la FFTT, mesdames et messieurs les représentants de la Région des Pays de Loire et du Département) ne sont pas venus dans une navette affrétée par le club, ils ont toutefois pu profiter en live d'un concert de Rock tout au long de la soirée (merci Lucas et Evan pour votre prestation hier !), ce que feue Elisabeth Two, fan secrète d'ACDC des Doors et autres Stones, aurait sans doute autant apprécié que sa plus traditionnelle cornemuse.
Notre copain Jean-Yves, brutalement disparu il y a quelques jours, a dû être fier de ses potes bénévoles d'avoir préparé une si belle salle, et apprécier l'hommage vibrant qui lui a été rendu par les quelques 500 spectateurs présents hier dans une très émouvante standing ovation.
Tu nous manques l'ami.
Tout était fin prêt.
Le spectacle pouvait commencer, avec des compos d'équipe réservant quelques surprises, puisque David avait en effet choisi de faire jouer Hampus en 3 et Jon en 1, tandis que son homologue Thoré-folléen (et non pas Thorignard ou Fouillis comme je l'ai entendu hier) jouait les Guy ROUX et le maintien en positionnant Alamyan en 3 pour tenter de ramener un point, une stratégie défensive et rarement gagnante.
D'autant plus quand le n°3 adverse est en rut, est « in the zone » ! Car Hampus nous a sorti un match incroyable de brio et de solidité hier face à un adversaire bien mieux classé que lui, dans une partie hyper serrée et de très haut niveau, constellée de points véritablement hallucinants (voir vidéo ci-dessous) ! Un match spectaculaire à souhait qui devait inévitablement se jouer à très peu de choses. A deux services notamment. Celui que Noshed expédia tout d'abord dans le filet à 9-10 dans un premier set évidemment capital dans ce type de face à face. Et celui que l'arbitre lui compta faux à 4-5 à la belle, donnant un point gratuit à Hampus qui n'en demandait pas tant: tout à fait subjectivement, et je m'en excuse, prendre cette décision à ce moment-là du match, c'est être à la psychologie et au respect du jeu ce que Teddy RINNER est à la danse classique, ce que Benoît PAIRE est à la victoire au Tennis… La colère de l'Iranien et de son coach n'y changea rien et Hampus conclut le set avec talent et autorité pour donner la victoire à son équipe.
Car auparavant, Jon s'était défait d'entrée d'un coriace Jules ROLLAND, après avoir toutefois connu un véritable trou d'air au 2ème set (3-11) qui fit craindre le pire à ses supporters, et Joao avait fait le job face à Enzo Angles en 4 sets très disputés, dans une partie tactique et assez fermée, effaçant ainsi la cruelle défaite que le portugais avait concédée face au même adversaire il y a deux ans après avoir mené… 10-3 à la belle !
3-0: un score sans doute un peu sévère compte-tenu de la qualité de l'opposition des bretons, un score qui aurait peut-être été différent avec un Alamyan placé différemment sur la feuille, Jon et Joao n'ayant en effet pas semblé faire preuve hier d'une totale sérénité.
La fête pouvait commencer !
Après quelques discours, Gérard Sarazin recevait enfin des mains du vice-président de la fédération le très convoité, très bleu et très bizarre trophée de Champion de France de PRO A 2021 / 2022.
Jon, plus sage que d'habitude, arrivait cette fois à se retenir de dégoupiller pour ne pas gâcher la photo souvenir.
Les Loups pouvaient enfin rejoindre leur tanière en meute pour boire quelques coupettes et se féliciter du travail bien fait.
« On n'a pas deux fois l'occasion de faire une bonne première impression » disait ma grand-mère: je pense que les différents acteurs de cette belle soirée, joueurs, dirigeants, bénévoles, ont respecté cet adage à merveille et séduit les habitants de notre nouveau quartier qui assistaient pour la première fois à un match de ping de haut niveau
Nous vous donnons à tous rendez-vous pour le prochain match à Monplaisir le 25 octobre prochain face à Pontoise.
Les résultats de la rencontre
Jon PERSSON (N° 7) bat Jules ROLLAND (N°64): 3- 1 (8 / -3 / 8 / 3)
Joao GERALDO (N°14) bat Enzo ANGLES (N°39): 3-1 (9 / 8 / -6 / 6)
Hampus NORDBERG (N° 29) bat Noshad ALAMYAN (N°23): 3-2 (9 / -5 / 7 / -9 / 6)